THE RETURN TO FACE-TO-FACE TEACHING IN THE CLASSROOM
EUEF | San Juan de Dios
Although there is no absolute certainty concerning what will happen next year, if things continue as they are now and with the regulations currently in force, the following are some essential characteristics of the beginning of the academic year:
A MAXIMUM OF SAFETY MEASURES
Eminently face-to-face instruction
Our University has an eminently face-to-face teaching methodology, and its vocation is to continue this type of teaching in all University Degrees that employ this manner of instruction on our Health Sciences Campus: Bachelor´s Degree in  Nursing and Bachelor´s Degree in Physiotherapy, Official Master´s Degree in Palliative Care, and Official Master´s Degree in Biomechanics and Sports Physiotherapy.
Along with the above, and given that we would like to guarantee the maximum safety for the entire University Community, we will follow the Plan of Action to adapt teaching and for the implementation of safety and hygiene measures for the 2020/2021 academic year.
IMPORTANT INVESTMENT IN TECHNOLOGY
100% classroom attendance, simultaneous bi-modal format for classes and alternating of attendance
Taking into account the above-mentioned features, while measures of physical distancing and restriction of the ability to meet in large groups due to reasons of health are in effect, the entire Campus of Health Sciences will implement teaching with a 100%  physical face-to-face attendance format for all groups when legally permitted by current regulations. In principle, this will be possible for the Bachelor´s Degree in Physiotherapy, as well as for all of the Official Master's Degrees.
In the Bachelor´s Degree in Nursing, given the size of the groups, classroom attendance at 100% capacity will be combined with a simultaneous bi-modal format (50% physical face-to-face attendance – 50% synchronous "virtual" attendance). In this manner, all of the students in a group will be able to attend the physical classroom in a face-to-face manner for a full week, then alternating for another week with a physical face-to-face attendance of 50% of the students in the group in class and 50% connected in a "virtual" on-line fashion. In this way, teaching activities will be carried out at the same time with physical face-to-face presence, with the number of students legally permitted in classrooms under current regulations, and "virtually", with the rest of the students enrolled in the subject, through synchronous re-transmission via video-conferences (using social media platforms Blackboard Collaborate or Microsoft Teams). A significant investment in technology has been made in order to be at the forefront of this educational model.
Implementation of exams under "Ordinary" and "Extraordinary" Calls to Sit for Exams will be face-to-face, and will follow the recommendations of Teaching Guides for courses. If, due to the current Health crisis, modifications are then required in the procedures and format for evaluation, they will be specified in an addendum to the Teaching Guide that may be consulted through the University Moodle Platform.
Those courses that have a smaller number of students enrolled (for example, elective courses), which comply with physical distancing measures with regard to the maximum capacity of our classrooms, may carry out their teaching entirely through physical face-to-face instruction, provided that organizational requirements, the logistics of classrooms and management of School timetables can accommodate this.
In the event that students have face-to-face physically present classes and bi-modal synchronous courses on the same morning, and are unable to return to their home to use their computer for courses taught in a non-face-to-face manner, spaces will be set up on the Health Sciences Campus so that they may follow their courses from the campus itself.
En caso de que la crisis sanitaria determinase la entrada en otro periodo de contención, con suspensión de la actividad docente presencial física, las asignaturas del Grado se desarrollarán en formato de docencia netamente online, en el que se procurará primar la presencialidad normativa virtual – síncrona (se darán todas las clases en el mismo horario que se tenía).
In the event that the Health crisis requires entering into another period of lockdown, with suspension of physical face-to-face classroom teaching activity, courses for Undergraduate / Bachelor´s Degrees will be taught entirely in an on-line teaching format, during which efforts will be made to prioritize "virtual"-synchronous classroom attendance (all classes will be taught at the same time as with the previous format).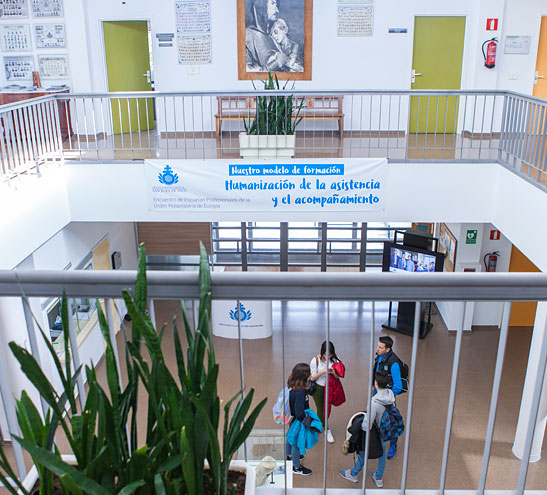 SAFETY MEASURES
Use of facilities and buildings
To guarantee the prevention of COVID-19, and following the Plan of Action to adapt teaching to the current situation, as well as the implementation of safety and hygiene measures for the 2020/2021 academic year, any regulations to be implemented which affect the use of facilities and buildings will be made public, as well as rules for the hours of occupancy, use of entrances and exits, routes to be taken inside the School for the flow of students and timetables.
OUTGOING AND INCOMING STUDENTS
Exchange students
Outgoing students in the School whose exchange programs abroad have been cancelled by our partner Universities due to current application of governmental recommendations and current legislation, will continue to study and enroll for courses within their curricula in the Faculty. Those students who have not had their exchange cancelled, but where it takes place in a country where travel is not allowed, will be able to carry out their exchange, if the host university allows it, in an on-line format, either completely or temporarily, until they can travel physically to the host University.
In the same manner, incoming students who have not cancelled their period of exchange, but cannot travel to Spain, will be able to carry out their exchange either completely or temporarily on-line, until they can physically travel to our University.
2019/20 and 2020/21 academic year
Internships
Regarding internships corresponding to the 2020/2021 academic year, the appropriate calendars and timetables to carry them out have been planned in coordination with the different Health Centers and Institutions, as long as the Public Health situation permits these activities to go forward.
Regarding interships for the 2019/2020 academic year, which were suspended for all of our degrees and in the entire Health Sciences Area in March 2020, provisions have been made for those students who were unable to complete them during this period. In accordance with the conditions established by the competent public organizations, these internships may be completed during the month of September in the different Health Centers and Institutions, by planning a special period that allows students to complete their practical training during the current academic year.
In all cases, carrying out academic internships outside of the Campus will require compliance with Health measures of prevention established by the collaborating institutions.
EMAILS, APPS, WEB SITES
Further information
Before the beginning of the academic year, further information will be provided to all members of the University Community.  We ask that the maximum attention be paid to all channels of information, through regular consultation, including emails, apps and the general University web page, as well as the web pages for the School or Faculty and the information on the program in particular.